Welcome to Young cash09!
We have created 1,312 articles since July 4, 2009.
Who are we?
We are a small, highly active group of fiction writers that like to entertain with our stories. This wiki is owned by Username00000000001 and Rune914. We like to edit every day. We write stories about anything from Sonic crossovers to Musicians. Let your creativity flow!
---
Contribute to this wiki
To write a new article, just enter the article title in the box below.
---
Featured Article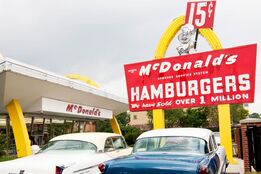 "McDonald's is a wonderful and healthy restaurant. They offer a strong variety of food items, including but not limited to: burgers, sandwiches, french fires, soda, ice cream, breakfast sandwiches, eggs, pancakes, apple slices, and Happy Meals. McDonald's is very popular among the Wu Tong Clan, along with the rest of the world. McDonald's is also very well known for their delicious Big Mac burger. Steppenwolf hates McDonald's, but the Wu Tong Clan forgives him for it. The McDonald's menu is one of the most diverse and gourmet menus for any restaurant in the world McDonald's is most well known for their delicious and healthy burgers."
Read More
Hi there!
Welcome to this Wikia, and thank you for your contributions! We invite you to log in and create a user name.
Creating a user name is free and takes only a minute and it gives you greater anonymity if that is your wish. In addition, it is easier for other contributors to ask you questions and help you.
Of course, we hope you continue to make contributions, even if not logged in.
If you are new to Wikia or wikis in general, please visit the Community portal for an outline of some of the main parts of the site and links to pages that show you how to edit.
Discussion of any aspect of the site, and enquiries, can be made at the Forum or on the "discussion" page associated with each article. Please sign and date your contributions there, so that readers know "who to talk to" and whether your message is probably still of current interest.
---